IMPORTANT INFORMATION
THIS ARTICLE IS NOT APPLICABLE TO CS EXECUTIVE STUDENTS IN 2022.
To learn about the current ODOP procedure, please go through the updated blog post by CLICKING HERE
Online One Day Orientation Programme for CS Executive on e-Learning Portal
The online one day orientation program for CS Executive students can now be easily completed on the e-Learning portal of ICSI. There has been a lot of confusion among CS Executive students regarding the online vs offline completion of ODOP. A common misconception has been floating among the students that ODOP can only be completed offline by visiting the Chapter offices of ICSI. But in wake of COVID pandemic, ICSI has now introduced online ODOP feature on its e-learning portal. So now you can complete your one day orientation program from the comfort of your home.
How to complete One Day Orientation Program for CS Executive
You can complete your ODOP in a few simple steps described below
Visit the website www.icsi.edu on your browser and look for "STUDENT" in navigation menu as shown in the image above. In the dropdown list, click on the option "E-Learning Portal". You will be taken to a new webpage. You must now login to the E-Learning portal for the next step.
You now land on a page where all your registered courses should show up. If you are lucky, then Executive ODOP will show up right away. But if you could not see this section, then don't worry. Just search for CS Executive ODOP in the search bar provided in the Explore section besides MY COURSES tab.
On launching the ODOP course you will be shown a series of videos. We recommend that you see all the video thoroughly. You will be required to give an assessment test at the end of the ODOP process. The questions in the final assessment will be asked from these videos itself. So make sure you see them 100% without fail. Also note that once you finish a video, click on the "Mark as Read" button at the top right corner to mark the video as 100% seen.
After all the steps above you will receive a certificate of completion of ODOP as shown below. We suggest you to save this certificate somewhere safe. This could be used later to prove that you have successfully completed the online one day orientation program for CS Executive by ICSI.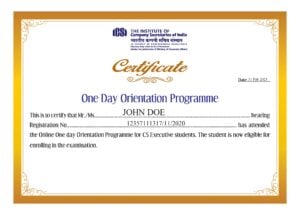 If you would like to see the tutorial on completing ODOP, then watch the video below. In this video, CS Aditi Pant Ma'am explains the entire process step by step in easy to understand language.
Important links for cs Students
To visit the ICSI e-Learning portal just click on the button below. Please note that you have to enter the login details as explained in the video above.
To visit the ICSI Home page click on the button below. To remain updated about Company Secretary course, we recommend that you visit ICSI website regularly.
So wait no more and go ahead to complete your orientation as soon as possible. If you liked this article then don't forget to share and comment. We at LectureKart always try our best to keep you updated with the latest news and developments in the field of Commerce education.