ONE DAY ORIENTATION PROGRAM (ODOP) FOR CS EXECUTIVE IN 2023
There is a lot of confusion regarding Online vs Offline vs Virtual ODOP among students of CS Executive in 2023. If you are not sure how to complete your ODOP for CS Executive in 2023 then you are at right place. LectureKart is here again with the latest step by step guide on How to Complete Your CS Executive ODOP in 2023.
The one day orientation program for CS Executive students can be easily completed by contacting the ICSI Chapter offices.
During the COVID period, the ONLINE OPTION of ODOP was also given by ICSI. But now as the situations are relatively normal the ICSI is now conducting the One Day Orientation Program through OFFLINE MODE only.
IMPORTANT: As of August 2022, the One Day Orientation Program IS CONDUCTED through OFFLINE MODE only.
Here are some easy steps to complete the ODOP through Offline Mode. So without wasting any more time lets start.
Step 1
ICSI sends the email regarding the ODOP along with time and date in the registered email Id of the student
Step 2
Interested candidates can contact the respective chapter office through Mail or Phone and complete the registration process by providing complete details.
Step 3
Once the registration process for ODOP is over, the student will get a confirmation email from the concerned chapter of ICSI
Step 4
The student is expected to attend the Program diligently on the appointed date and time as provided by concerned chapter of ICSI.
Step 5
After following all the steps detailed above you will receive a certificate of completion of ODOP as shown below (either in Soft copy or Hard copy as per the procedure followed by the concerned Chapter Office).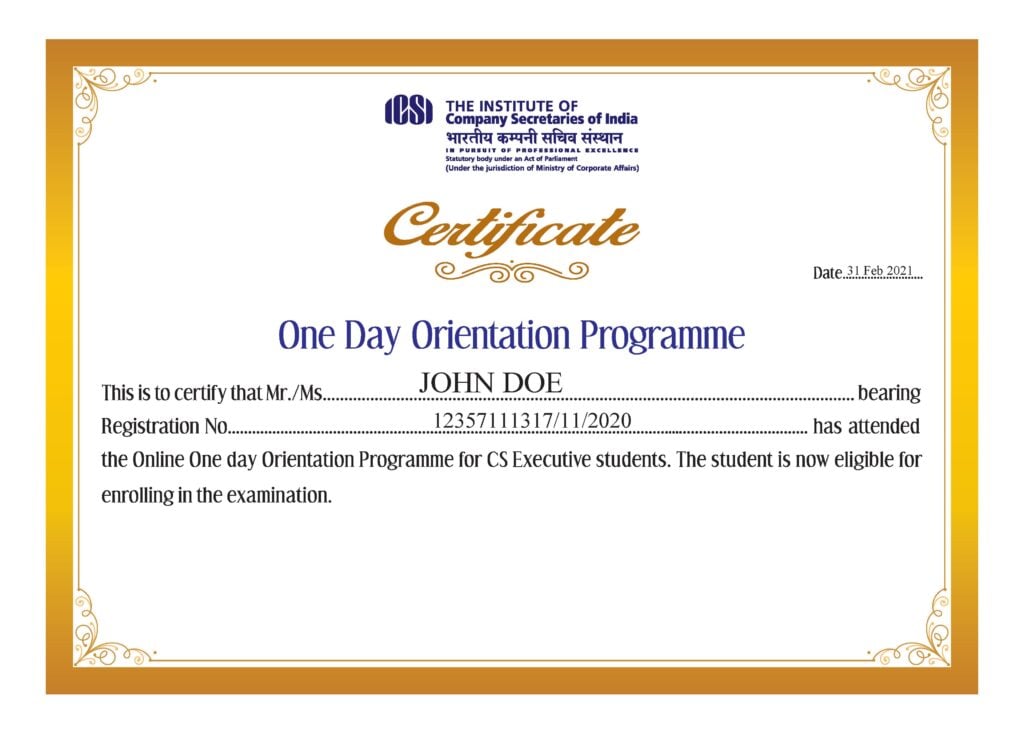 We suggest you to save this certificate somewhere safe. This could be used later to prove that you have successfully completed the one day orientation program for CS Executive by ICSI. So wait no more and go ahead to complete your orientation as soon as possible.
To know the ODOP TENTATIVE SCHEDULE OF ONE DAY ORIENTATION PROGRAM (ODOP) BY RC / CHAPTER OF ICSI FOR THE MONTH OF JANUARY – MARCH 2023, click on the link below:
Click Here To Download Tentative ODOP Schedule for Jan-Mar 2023
If you liked this article then don't forget to share and comment. We at LectureKart always try our best to keep you updated with the latest news and developments in the field of Commerce and Law Education.